Black Hat Marketing for Ranking on Search Engine
Black Hat marketing is often seen as a quick way to boost a website's SEO ranking and profits. However, it is a risky and unethical approach against industry standards and search engine guidelines. Many of these tactics can be highly detrimental to a company's reputation, as they trick search engines into showing incorrect results. For instance, keyword stuffing and hidden link structures are popular black hat SEO techniques; however, they can lead to massive penalties or have websites wholly removed from search engine listings.
It's much safer to go down the route of ethical SEO marketing instead – while progress may take longer, it ensures that your business adheres to regulations and can remain actively seen in search engine results for years.
Black Hat Digital Marketing for SEO Ranking
Black hat digital marketing is becoming increasingly common among online businesses and entrepreneurs. These organizations are working to boost their search engine rankings and gain an edge over their competitors by employing keyword stuffing, cloaking, hidden links, and link-building scams. Unfortunately, this type of SEO marketing often results in penalties from Google or other search engines for violating their strict guidelines for content quality, thereby risking the reputation and success of the business.
Companies should be aware of black hat SEO tactics and be cautious when considering these practices. Only organic marketing methods that comply with industry standards can help ensure that a business will reap the rewards while avoiding unnecessary risks.
Black Hat SEO Cloaking | Black Hat SEO
Black Hat SEO Marketing is unethical in marketing and search engine optimization (SEO). It involves using malicious techniques to deceive search engine crawlers and increase traffic to a website. Generally, 'cloaking' is one of the tactics engaged in Black Hat SEO when webmasters present different content or URLs to users and search engines.
The goal behind cloaking is typical to fool search engine algorithms into thinking that a particular website has more relevance than it does, boosting its ranking within search engine results pages (SERPs) and driving more traffic. Although cloaking gives websites an edge over their competitors, it should not be used due to how deceptive it is and because it's likely illegal.
Black hat seo tools
Black Hat SEO Marketing has become an increasingly popular choice for online companies and marketers looking to gain a competitive edge in the online marketplace by using website optimization tools. These tools rely on tactics search engines have identified as detrimental, such as keyword stuffing, link farming, and content cloaking.
While these techniques may temporarily give a website an edge over its competitors, they are not sustainable and will eventually result in a lower ranking and loss of traffic. For long-term success with good organic rankings, it is essential to stick with White Hat SEO strategies that offer quality content and accurate results based on user engagement.
Black hat marketing examples
Black Hat SEO Marketing is an unethical and often illegal marketing strategy. It utilizes tactics designed to fool search engines into producing higher-ranking results for websites or products, regardless of whether the content or product being marketed has value or relevance. Examples of such practices include keyword stuffing, hidden text, and link farms.
These activities can be detected by regular monitoring. However, unfortunately, some companies still utilize this kind of "dirty" marketing to game the system and appear at the top of search engine results pages (SERPs). For these reasons, it is important not to engage in Black Hat SEO Marketing, as there can be severe legal consequences.
Black hat seo techniques with examples
Black Hat SEO Marketing tools are techniques used to get higher rankings on search engines for a website. These tools typically involve manipulating the metadata, content, or code of a website to appear more visible and relevant to search engine algorithms than what is the case. Such techniques include link farms, keyword stuffing, cloaking, and white-label back-linking. It's important to note that while these tactics may supply short-term gains, they can have long-term adverse effects on a website's reputation and should be used with caution.
Google's webmaster guidelines for Search Engine Optimization
Google's webmaster guidelines are essential for anyone creating a web page. These standards provide insight into how Google understands and evaluates your page, which can help you rank higher in search results.
Furthermore, they offer tips to improve your page's crawl ability to be more user-friendly. Additionally, following Google's guidelines helps protect your webpage from being penalized by a black hat's SEO technique, such as buying links or duplicating content. Knowing and following these guidelines will improve the visibility of your website online and help you generate more traffic organically.
Black hat SEO is a type of search engine optimization (SEO) tactic which relies on manipulating search engine result pages (SERPs) with hidden, invisible keywords and tactics. This approach uses unethical practices such as spam, cloaking, keyword stuffing, paid Links, renegade search engines, and malware to improve SEO performance.
It is important to note that Black-Hat-SEO often has the opposite effect to what was intended because search engines increasingly flag down sites using these tactics. In particular, Google's search engine algorithms effectively filter out websites that use shortcuts through black-hat-SEO techniques. As a result, natural methods are strongly preferred for achieving good search visibility.
Black Hat Marketing for Search Engines Such As Google
Black hat tactics are an SEO plan of action that manipulates search results pages (SERPs) with hidden, invisible keywords and tactics. This approach uses unethical practices such as spam, cloaking, keyword stuffing, Paid links farms, renegade search engines, and malware to improve search engine performance.
It is important to note that black hat SEO often has the opposite effect to what was intended because search engines increasingly flag down sites using these tactics. Google's search algorithm, in particular, is highly effective at filtering out websites that use shortcuts through black hat SEO techniques. As a result, natural methods are strongly preferred for achieving good search visibility.
Black hat SEO techniques confuse search engine crawlers by displaying numerous relevant keywords. Keyword stuffing occurs when you produce material with a high pertinent keyword density.
Some black hat SEO Methods specialists supply a company site to order SEO strategy articles with a more than 28% keyword density. This violates the search engine guidelines. Popular search engines' webmaster guidelines, such as Google's, prohibit such acts. As a consequence, your site may incur a penalty.
Google's Guidelines penalty for Black Hat SEO Tactic
When you breach Google's search engine algorithms and unfair ways to appear on Major Search Engines such as Google, Bing, Yahoo, and Other search engines' result pages with unnatural links pointing to prominent search engines' anti-spam systems will discover it.
Your website may be subject to a Google penalty as a consequence. This will result in zero rankings for your web pages, or your website will no longer be available on major search engines such as Bing, Yahoo, and others.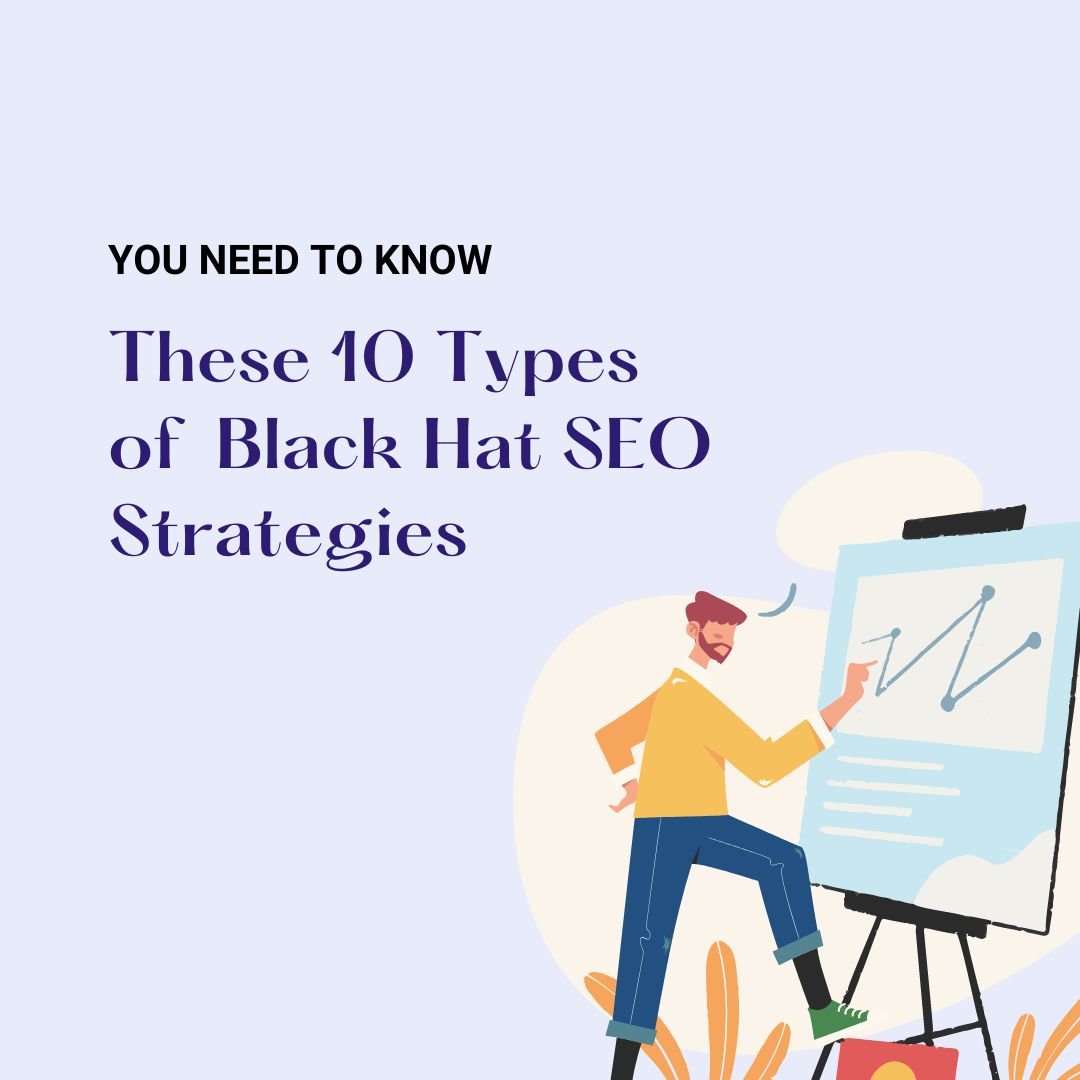 10 Black Hat SEO Tactics to Avoid in SEO
Black Hat SEO Technique is a magic trick to confuse essential search engines such as Google, Bing, Yahoo, Facebook, Instagram, and YouTube with fake article spinning or invisible keywords. This trick can play a game with structured data of SEO Algorithm commands.
Browsers have been informed to report Black Hat SEO-optimized web spam and blog comments. The websites allowing and practising these black hat tactics will face an unshiftable penalty and permanent ban on the website, not only for search results but also for being live or visible on the internet.
Using trickery to climb to Top Positions on Google is causing penalties. Although bad SEO can damage your website ranking, it could also reduce your chances of attracting new visitors. Let's take an overview of some famous black hat SEO tactics!
Google guidelines incise the below mediums as bad SEO Practices – black hat marketing.
Buying Links from a Private Blog
Web Spam
Low-Quality Content
Irrelevant Keywords on Private Blog Networks
Outside Links from Multiple sites
Sponsored Content
Not monitoring the correct SEO tactic
Site's rankings Cloaking
Irrelevant Blog Comment Spam
Posting Duplicate Content for
Keyword Stuffing
Repetition of the primary keyword will no longer be adequate for achieving a high ranking. Keyword stuffing will likely do precisely the opposite. Black hat SEO may be able to manipulate website SEO rankings using keywords, often used unintentionally. Keyword stuffing can happen in a series of random blocks outside the original content.
Irrelevant Keywords
A third joy in the over-optimization game involves using irrelevant phrases for ranking. I will give you an example of how you play poker. CTRs could suffer. The idea of getting a lot of traffic through keyword-laden pages is useless.
Cheats are punished like any other relationship, and Google will shut your/their website down. It's true. You have plenty of topics in your niche, and be careful. The dogs bite! Your users who may have become consumers may be losing them and will purchase from your competitors.
Poor Quality Content
The practice of submitting poorly ranked web pages to Google is often repeated. These include information gathered from another website by bots or people. In some cases, Google couldn't recognize a copying page on a website.
Google Panda 2011 resolved the problem. Many sites with duplicates had immediate impacts on search results. Since then, Google has dramatically improved the detection of copies and inferior content.
Furthermore, using the free keyword is not permitted. Some webmasters using Black Hat SEO use the same colour as the background on a website.
It Can Negatively Impact Your Search Rankings and Visibility
It is logical for a web developer or website to avoid black hat SEO strategies if it leads you to lose visibility and ranking. Please see below. This shows the visibility of an internet site whose traffic is lost due to unorthodox methods and negatively impacted. The result could be a reduced return on investment or even job loss. Additional PPC and paid media investments would be required if organic traffic drops.
Black Hat SEO vs White Hat SEO | Choose the Right Option
Black hat SEO is an attempt at breaking search engines' guidelines in a bid for more ranking. It could result in the searcher being eliminated or gaining lower positions. A white hat SEO technique provides more ethical ways to do SEO. It outlines how Black Hat SEO creates a more efficient SEO strategy.
Hidden/Invisible Text and Links
The ability to hide links is different in size or shape. The Google search giant reveals various ways to hide text links or text by using CSS to display text in an otherwise invisible spot – using the same colour font as the background.
The novice uses this deception tactic to fool the people—a picture taken by our website. No hidden text links will harm your site. This way, images, descriptions, and text scripts in Java or code in Flash are appropriate. Using the latest technology improves the searchability of your site.
10 Black Hat SEO Tactics To Avoid
When starting your SEO strategy, knowing which techniques are best and which are not can be challenging. Despite many basic SEO techniques being simple white-hat tactics, many more sophisticated techniques demand attention.
However, follow the correct instructions. A blog or other social networking tool might seem incredibly advanced, but they only lead you toward nefarious techniques. The more people learn to recognize the potential for disastrous events and strategies in the future. The easier it is for them to avoid.
Article Spinning – Black hat Internet marketing
Also, be sure to check out the news articles rotating. Similar to plagiarism, these practices include copying articles from other websites. Spinning refers to reusing the same idea or rewriting a complete paragraph. Occasionally, some writers will use algorithms that automatically translate text into text.
Google penalizes copies or duplicates. Occasionally, publishers may even bring criminal action against users who have plagiarized information. It'll steal copyrights in the end! It would also be impossible to elaborate on subjects nobody had already discussed.
Automatically Generated/Duplicate Content – black hat marketing
Creating great content is complex, and Google remains a major ranking factor. Typically, the black hat technique involves automatically creating and ranking content for many keywords without really leaving or creating valuable, unique content.
Suppose many sites on one-page use the same content, but only the name changes the page name. You should ensure you create quality content for your website that does not cause errors or a bad copy.
Misused Structured Data and Rich Snippets – black hat marketing
While organized data helps to define entity actions online, a typical black hat tactic would be to misuse such markup. The most frequent use of categorized data is for factually inaccurate information—like people attempting to create better-structured data for sites.
Many marketers write false reviews that provide 5-star reviews that improve the SERP position and increase CTR. Like many other tactics, these tactics are deceitful and should not have any impact.
Blog Comment Spam – black hat marketing
The name suggests the use of black hat techniques in blog comments. This practice occurs less frequently because search engines update their algorithms to remove all blog links. Almost every reliable blog has no follow links as the default.
This means search engines and Google don't follow a link, and the link passes no authority. Despite a declining number of people engaged, many people are still commenting on Fiverr advertising blogs.
Commercial Anchor Text on Internal Pages – black hat marketing
Using keyword-intensive anchors in the internal links indicates an over-optimized site or overly SEO – which would look very much the same with an unreal smile. You must make sure everything is clean. Tell me the best way to recommend a tour you sell on your site to a friend. Recommended: We have a fantastic 6-Day trip to Barcelona with complimentary travel insurance.
Link Bait and Switch – black hat marketing
It's a way of changing content to be commercial. Obtaining links for specific articles before switching to something utterly commercial without connecting to the first topic is easy. Even though your ranking is unique in quality, it strongly suggests you have a frivolous desire to gain traffic.
Misleading Redirects – black hat marketing
Using redirected content in search engines is typical for SEO. How your website is organized can help you ensure its accessibility, as it is an essential tool for the user. Like cloaks, a few clever redirects deceive search engines into showing content they aren't sure about. Sometimes search engines search for the site and take users to another URL for a destination. Google's webmaster guidelines include sneaky links as if this tactic were in violation.
Spammy Footer Links – black hat marketing
We refer to them as spammers or scammers because your website is written solely to rank and cheat. This link is not a text that outlines or explains how you connect to an article.
Unfortunately, the practice has been practised by many people, ultimately resulting in ranking losses. If it happens, you're likely to face disciplinary action. If a webpage has links on a website's footer, then there is no need for those links. Websites The Unnatural Link Profile may also have other effects on other activities.
Paid Links – black hat marketing
Search engines such as Google strictly restrict purchasing links. They also say the connection is considered part of a link scheme and violates the Google Webmaster Guidelines. The company sends free merchandise on a site to customers for free.
Matt Cutts explains why the email exchange is acceptable to anyone. You can never pay another website for your link. Google asks users for information about instances where someone bought a tie.
Buying Backlinks – black hat marketing
The search engine uses backlinks to rank your site. If Google can identify many areas on your site that have links to the site, it will consider it a trusted source. It helps improve Ranking on SERP. Some users use the rankings signal to sell link placement to other users.
In this arrangement, others can be paid so a website owner can put backlinks on their pages. But when selling links to several users, Google could mark it as spam. A link bought against Google may result in penalties if you do so.
Doorway Pages or Gateway Pages
The doorway webpage describes a practice of inflated sites using cloaking to send people to a page that does not have any connection with the query. The redirection was modified and more skilled. Those using this method will probably rank in SERPs in some way.
The Google algorithm was introduced to penalize page entries for such techniques in the March 2015 quarter. You will find the results if you search "prednisolone without prescription" on Google. I didn't see what I wanted, just an internet list of the most famous pharmacies.
It Typically Results In A Poor User Experience
Bastian Grimm shared his opinion on how SEO has changed in this Tech and UI webinar. SEO is required to look at website user experience and serve the most significant possible user experience for them.
Blackhat tactics have a similar effect – focusing more on search engine optimization (or at least the kind that search engines want to see). That may cause problems. The trust of the searcher is essential.
Link Farms black hat SEOS – black hat marketing
Link farms are websites or collections of websites that only use links for linking purposes. All sites link to sites they desire to rank high for search engines. For example, a search engine can determine how many links the site has.
SEO uses links farms to inflate the backlink count of the site. The Link Farm contains poorly written material and many links. The links usually have keywords that are required in the anchor text. Search engines are excellent at detecting linking farms, and users are advised against them.
Misuse of Schema Markup, black hat seo and black hat marketing
Schema-MarkUp makes searching engines easier for you. When you add this code to a site, you will get rich text from a webpage. Rich snippets are search results that are filled with additional details.
These examples have a high clicking rate (CTR) compared to typical links. Hence, integrating schema markup into your pages helps increase the number of visitors and conversion rates. It would be best if you weren't doing that.
Using keyword phrases in schemas can result in a penalty. Many website owners try to fool visitors with incorrect information.
How to Identify Black Hat SEO Behavior on a Website
Black hat SEO is a technique used to promote websites that violate web search criteria. Black Hat SEO strategies are intended to manipulate search algorithms to improve the ranking in the SERPs of websites.
Google is apparent about the types of behaviours forbidden. There are definite consequences for violating the laws. If the website's search engine ranking algorithm is poorly optimized, it may cause fewer visitors and poorer rankings. Learn about SEO with a Certified SEO Course!
Authoritative blogs are a great way to improve the reach and reputation of your website. However, black hat SEO practices can also use these methods to spam search engine results. For example, some blackhat SEO practitioners create fake blogs with backlinks pointing to their pages or products.
They may also pack the blog with keywords to appear higher in a search engine ranking than it should. To ensure you're not engaging in black hat SEO practices, you must create authoritative blogs with unique content with proper internal and external links and use organic techniques such as optimizing your websites and following traditional SEO practices.
Guest Post Spam
Many people use this technique to obtain links from their websites. I've never been there. They often write a message for bloggers to post irrelevant content, and the connection is often followed. Sites that link to their website may negatively impact their rankings. An example of a message sent to guests can be such:
Creating Mirror Sites
Mirror sites can mirror original website content for rankings, and they will also help with removing duplicate content from websites. This could help to duplicate information on a website. The evil men will try to convince you of their use for DDOS attacks. DDoS is an Internet hack that aims to steal personal data from multiple compromised devices. It is a black hat marketing strategy.
Cookie Stuffing or Cookie Dropping
Publishers use cookie stuffing by embedding scripts in t-shirts and displaying images. Tell me the way the guy got the cash. If a publisher sends a visitor to Example.com's website, credit for all their sales is given. Cookies are illegal!
Avoid Black Hat SEO and Read Google's Webmaster Guidelines
The best way to report SEO problems is to check the guidelines for a good website. Websites must know quality standards that address fraud-prone behaviours in their online marketing environment. Once you determine that your webpage violates Google Webmaster guidelines, proceed into a subsequent step to start a new investigation.
Why avoid Black Hat SEO Techniques – Black hat marketing
Black hat SEO is used to manipulate search engine algorithms to improve rankings in search results. It involves keyword stuffing and link farming techniques designed to deceive search engines into giving a website top ranking.
This practice can result in a website being blocked from search engine indexing and can cause severe long-term damage to a business's online reputation. Business owners should be aware of black hat SEO practices and ensure their web pages adhere to ethical optimization standards to protect the company's brand integrity.
How to report Black Hat SEO Practiced website
Online black hat practices have been standard lately, with many malicious websites using these techniques to gain the upper hand in rankings. Even though black hat techniques are against search engine guidelines, it is still relatively easy for website owners to attempt black hat SEO to gain higher visibility.
It is essential to act and report any black hat SEO practices on a website before the issue becomes more complicated. Doing this helps ensure that digital neighbourhoods remain safe from malicious activity. If you encounter a website practising black hat SEO, do not hesitate to submit a detailed report to the proper authority, including evidence of such behaviour. Taking these steps to protect the web ultimately benefits everyone eventually.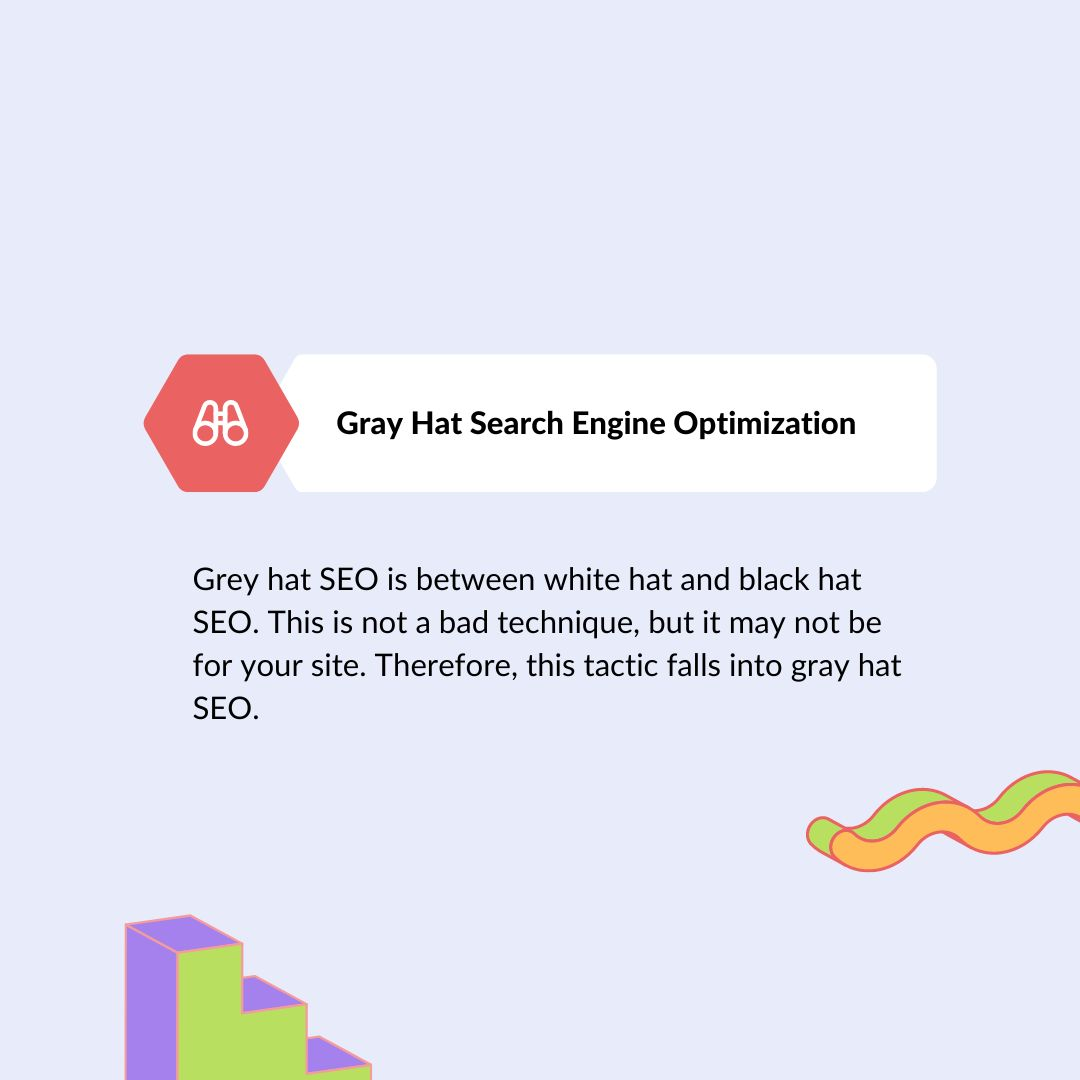 Grey Hat SEO-Link building with the Most authoritative blogs
Grey Hat SEO is a powerful marketing technique combining ethical and unethical SEO methods. It is used to achieve significant exposure in the SERPs without violating any of Google's standards.
It typically involves tactics like content spinning, buying linkbacks (link building), and cloaking links. By pushing the algorithm's boundaries, this approach allows businesses to gain maximum visibility without getting penalized.
Although there are high risks involved with Grey Hat techniques, many still see it as an effective way for businesses to improve their search engine rankings quickly.
White Hat SEO – Organic Traffic with Web Developers
White Hat SEO is a set of tactics to improve online search engine rankings and drive website traffic. These tactics abide by all search engine guidelines, meaning they are designed to create content that adds value to the user experience. The result is increased long-term success, site visibility, improved web presence, and search engine authority. In an increasingly digital world, White Hat SEO can be essential in helping businesses achieve the highest levels of success online. So, why follow Black hat marketing?
How to Avoid Blackhat SEO-Optimized Websites
When searching the web, it can often be tricky to tell the difference between a Black-hat-SEO-optimized website and a legitimate one. To stay safe while browsing, it's essential to identify and avoid illegitimate websites.
Some signs of a website using Black-hat-SEO techniques are outdated content, keyword-packed text that doesn't make sense, and multiple backlinks from unknown sources. Suppose you come across any of those indicators while researching online content.
In that case, it's best to move on to another website instead of interacting with Blackhat SEO-optimized sites. Additionally, if possible, always double-check factually accurate information before rating out to use at other places – this way, you'll have better control over what kind of content your online presence carries. Maybe using an anti-spam tool will also be an adequate solution.
Anti-spam tools for avoiding Black Hat Marketing
It's understandable to feel overwhelmed with the amount of spam in our digital lives. Anti-spam tools are a great way to limit unwanted emails, texts, and calls. They can range from sophisticated digital filters installed on a computer system or web service to simple add-on applications you can download that identify and block spam messages.
Depending on your particular needs, you'll want to consider the anti-spam tool that best meets those requirements. Choosing the right tool will filter out any unwanted fraudulent content and let you focus on legitimate messages from your contacts.